FOR IMMEDIATE RELEASE
---
Great Results at East Schools' Championships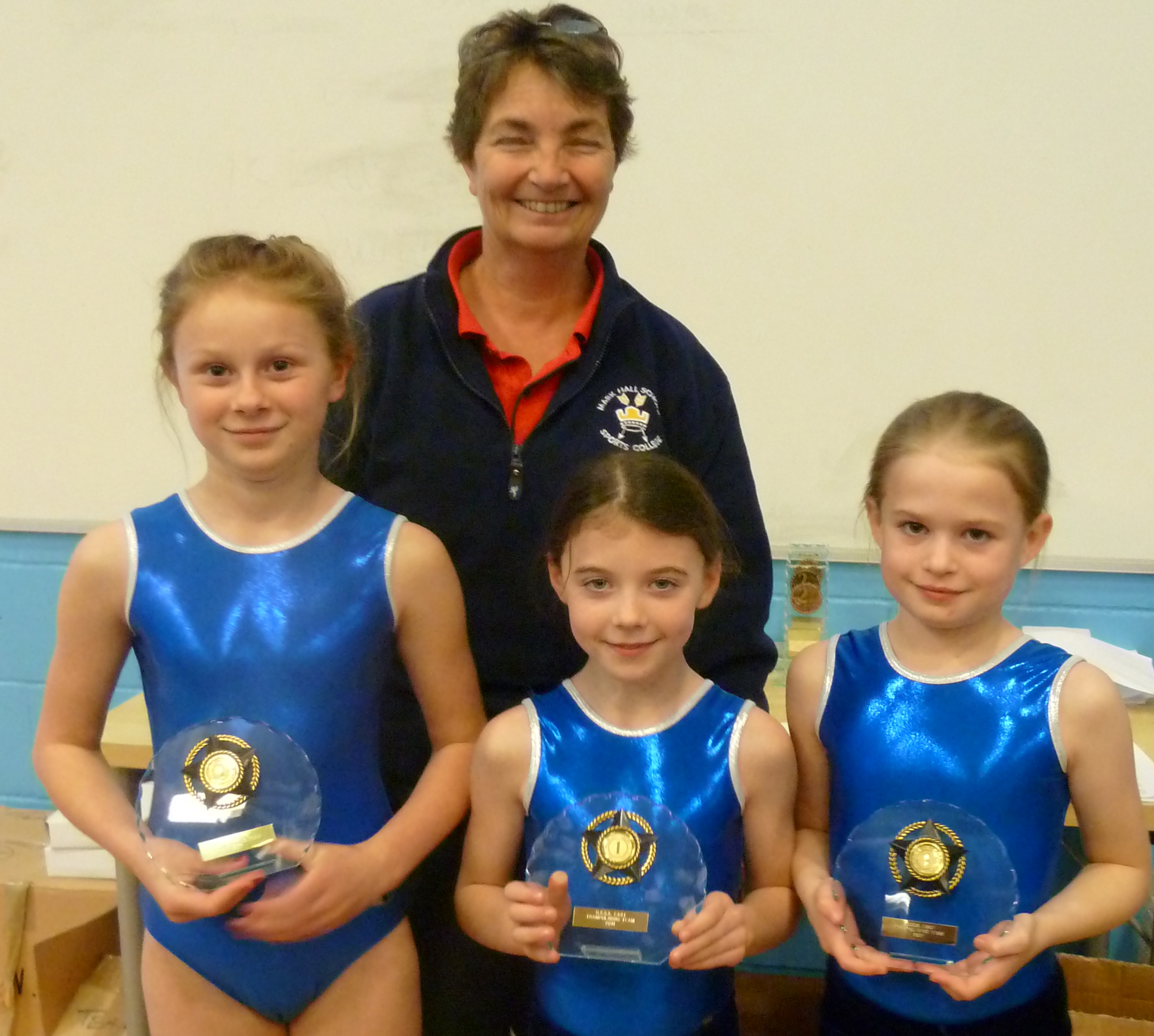 The Long Ridings Under-11 Novice team, Mia Gray, Erin Wells and Sophie Tyrrell with organiser June Tulloch
Brentwood Trampoline Club had 19 members representing their schools at the recent East of England School's Championships and 13 of them have secured places at the Zonal finals in Shrewsbury in January where they will compete against the winners from the Midlands regions and Wales. Members did particularly well in the Elite groups taking all 4 girls titles available.
The under-11 girls Elite competition was dominated by the club with Madison Merritt (representing Downham CoE Primary, Billericay) winning closely followed by Faith Everett (from Kingswood Junior, Basildon) and Georgia Tyrrell (Long Ridings, Brentwood) in second and third places. The under-11 girls Novice competition saw Ramiyah Kendall (Willowbrook, Brentwood) take second individual place and the Long Ridings team (Sophie Tyrrell, Mia Gray & Erin Wells) secure the winning team award, Sophie also came very close to individual success just 0.1 behind the 3rd placed performer and Emma Heptinstall (Ardleigh Green, Havering) just 0.1 behind that.
The under-13 girls Elite saw Olivia Watson (Coopers Coborn & Company, Havering) crowned champion with school-mate Susanna Badley securing the under-15 girls Elite award. Susanna was joined by the rest of the Coopers' team (Lucy Phillips, Emma Brereton & Ellie Guy) in securing a team win as well, although their club-mate, Lauren Michaels (Gaynes School, Havering) just missed out on a trip to Shrewsbury by 0.3 in 4th place behind Lucy. Finally, the under-19 girls Elite title was won by Chrissie Law (Brentwood School).
The club's Head Coach, Paul Kitchen, was delighted with the results and said:
"this is testament to the hard work our members put in during training and those few who didn't make it to the Zonals this time certainly didn't fail through lack of effort or commitment."
For those wishing the try the sport out the club remains open throughout the school holidays and will have spaces available during its pay-as-you-go sessions.
Brentwood Gazette article - published 14th December 2011 - p61
Click on thumbnail for larger image.